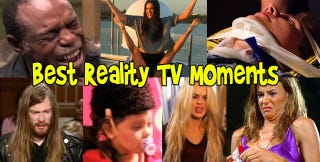 As 2010 comes to a close, we take a look back at the genre that dominated our television sets: Reality TV. Whether they're Housewives, Judge Judy litigants, pageant kids or Kardashians, we've laughed at them all. Here are our favorites.
Before getting into the official rundown of the Top 10 Reality TV Moments of 2010, we'd like to first acknowledge these clips that didn't make the list, but should still not be forgotten.
Honorable Mention 1: Bobby Brown's drug pants.



Honorable Mention 2: Ramona's runway walk.



Honorable Mention 3: Mackenzie Phillips unintentionally laughing at Mindy McCready's seizure.