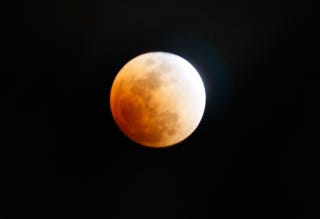 Tonight, for the first time since 1378, a total lunar eclipse of a full moon falls on the winter solstice. OMFGWTFBBQ! What does it mean?
Wired reports that the last lunar eclipse on a solstice happened in 1638 (that one wasn't a full moon, like 1378), so seriously, plan on going outside!
At around 1 am Eastern time tonight, if the sky is clear where you are, you should be able to see the eclipse beginning. Shit gets really freaky at about 3:17 am, when, according to National Geographic, "the moon plunges into Earth's umbra-the dark center of our planet's shadow." And! "The moon will slowly begin glowing orange."
In addition to this being a big astronomical event, an eclipse like this makes a huge astrological impact. Astrologer Susan Miller predicts that something may change within the royal family following this eclipse. She's written a guide on how to deal with eclipses, which often come with life-changing news — usually endings. Breakups, pregnancies (a new life, but the end of life as you once knew it), downsizing.