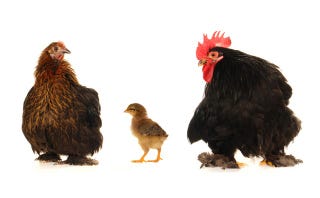 Even adults need things from their parents from time to time. Whether it's distance, acceptance, or cold hard cash you crave, we'll show you how to get it.
Parental relationships can be tough to navigate as an adult — especially when what you want doesn't line up with what your parents want for you. Below, some tips on negotiating with your parents if you want ...

Distance
If your parents are micromanaging your life, or insisting on daily updates, you might start to want some breathing room. But unless you want to break up with them, you'll have to do it in a way that doesn't totally freak them out. Dr. Joshua Coleman, psychologist and author of When Parents Hurt: Compassionate Strategies When You and Your Grown Child Don't Get Along, says that any request for distance should probably be a "series of conversations" rather than just one. He explains that a tactic like sending a letter saying "I need to take more distance" is "very alarming to the parent." A better way might be to ease your parents into it — explain to them that you'd like to talk less frequently, listen to their responses, and answer them respectfully but firmly. If possible, try slowly ramping down contact rather than cutting it off with one fell swoop. But if you do need a total break, Coleman suggests saying something like, "this actually has little to nothing to do with you, I just feel like I'm going to be out of contact for a while, and I don't want you to worry about our relationship or me." He says parents will be less likely to freak out if you give them a time when you'll get back in touch — say, a month. And be prepared to do some "cleanup" — distancing yourself from parents, even if you do it gracefully, has a tendency to make them upset.