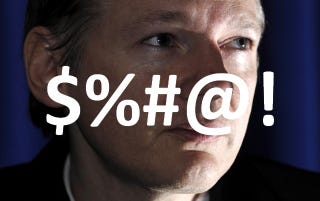 The words "Julian Assange" have become rhetorical poison, quickly turning even sane conversations into bilious screaming matches. Here's why the discussion about him has gotten so goddamned awful.
1. Assange is a hero to some, and he's been accused of rape.
Seriously, do you want to have a Terrible time? Mention rape allegations against anyone with a popular following, whether it's Roman Polanski or an athlete like Ben Roethlisberger. Watch as people you ordinarily like and respect bend over backwards to explain to you how their hero could not possibly have done something like that. Watch as they then bend over even further, to tell you either that a) that person's accuser must obviously be untrustworthy because she was drunk or not a virgin or wrote a feminist blog or b) that whatever the hero did cannot possibly be rape because a hero would never rape anybody, because he is a hero! And just keep watching as all these people you once thought of as fair-thinking are forced to chip relentlessly away at their conceptions of consent and basic human rights, all to protect and excuse the person they think is awesome. In response to the Julian Assange case, several smart people have pointed out that in fact, guys who do good or even heroic things in other areas of their lives are capable of rape, that most rapists "have jobs, friends and roles to play in their communities," and that a person could even have a giant international fan base and still be a rapist. Sadly, the idea that anybody who supports WikiLeaks must avow Julian Assange's innocence corrosively persists.
2. The accusations were confusing.
Why do I say "were?" Because as I've reiterated several times, anyone with the Internet can now look up a clear breakdown of what Assange stands accused of. Initially, though, the waters of the case were muddied both by Assange's own lawyer and by shitty reporting. This initial muddiness has allowed a whole bunch of people who should know better — including Keith Olbermann and Michael Moore — to claim that the charges are inscrutable or "strange", and to cite outdated or inaccurate information as though it were fact. And if that fails, they can say "none of us knows" what the charges really are, thus misleading the many laypeople whose jobs don't include reading about Julian Assange every damn day.