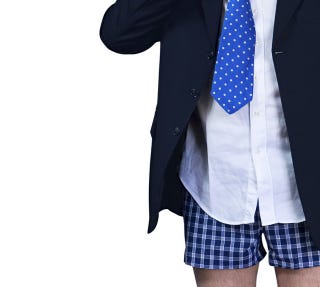 Today in pyrrhic victories: a Swiss bank has rolled out a dress code that's equally obnoxious to women and men. It even warns dudes against panty lines!
According to the Wall Street Journal, the UBS AG dress code is 43 pages long. Here are a few of its tips for lady-employees:
— Button your jacket at all times — except when you're sitting down, when you should unbutton it.
— No "trendy spectacles" (this is the Journal's phrase, but I sure hope it's a direct translation).
— "Light makeup consisting of foundation, mascara and discreet lipstick ... will enhance your personality."
— Dye your hair regularly; no visible roots.
— Wear "skin-colored" underwear.
Kind of silly, but nothing we haven't heard before — the sometimes ridiculous stringency (and misuse) of dress codes for female employees has been well-documented. What's new about the UBS code is its equally ludicrous recommendations for men. They include: