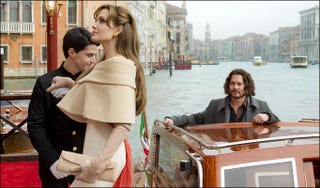 People love Angelina Jolie. Johnny Depp has a huge fan base. Put 'em both in one movie — for the very first time — and you'd think it would be box office gold! Instead, The Tourist tanked.
The film, which had a budget of about $100 million, made a measly $17 million this weekend. It came in second, after the new Narnia movie and before Tangled, which has been out for three weeks and already grossed $115,623,000.
What went wrong? I'd like to blame the crappy marketing, including the weird, humorless, cliché-filled trailer. The movie didn't seem funny enough to be a comedy, or high-stakes enough to be a thrilling action film. Angelina was dressed like Grace Kelly instead of the blood vial-toting vixen we fell for, and Johnny Depp, well, his face seemed uncharacteristically puffy, and he clearly wasn't having any fun. The Jack Sparrow sparkle was missing.