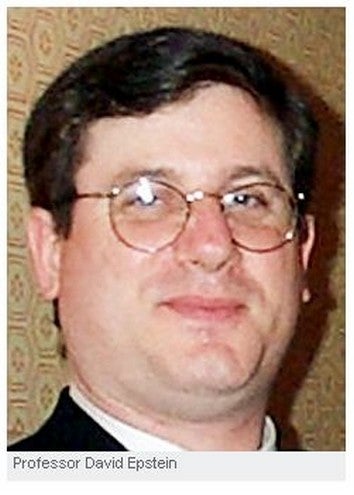 Columbia professor David Epstein was arrested Wednesday for having a sexual relationship with his daughter. The two apparently carried on an affair for three years.
The 46-year-old political science prof is accused of having an incestuous relationship with his daughter, now 24, lasting from 2006 to 2009. It's not clear how the incest was discovered, but the NY Daily News says the pair sent "twisted text messages" to each other. Epstein used to be married to his Columbia colleague Sharyn O'Halloran, and in a 2008 Columbia Spectator article on academic couples, O'Halloran said "Our complementary skills lead to a great partnership." At the time, Epstein was allegedly cheating on her with his own child. They may now be divorced.
The Columbia Spectator says the incest "appears to have been consensual" — and Epstein's daughter was over 18 during the time period of their alleged affair. In New Jersey, their relationship would actually have been legal, since that state doesn't punish incestuous relationships between adults. But as Mackenzie Phillips's abuse by her father made clear, it's hard to say whether sex between a parent and child can ever be truly consensual. Even if the child is grown up, like Epstein's daughter, there's an inherent power imbalance — not to mention the psychological damage a parent can do by replacing familial love with sex. The state of New York agrees that incest is never okay — if convicted, Epstein could spend four years in jail.