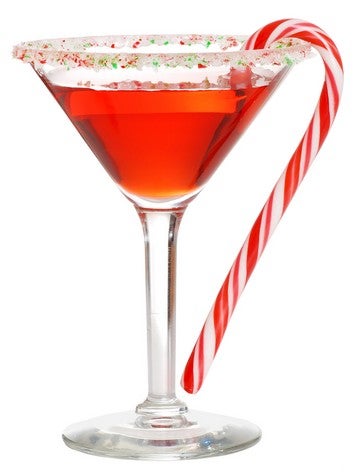 Blurring the social and the professional is always tough, and nowhere do these two blur more thoroughly — or more (potentialy) catastrophically — than at the dreaded office holiday party. Here's how to emerge with your dignity (mostly) intact.
Office holiday parties are infamous: a quick poll regarding celebrations past turned up tales of drunkenness, ill-advised make-outs, vomiting, awkward forced dances with the boss, humiliating misunderstandings, a feather boa, and, of course, coworkers' judgments of all of the above. But how to stay out of the ranks of the judged? A few tips:
Don't get drunk.
This is the first piece of advice everyone gives about office parties, and the rationale is pretty basic: getting drunk makes you do stupid shit, and you don't want to do stupid shit in front of people you work with. Career expert Nicole Williams thinks you should always have a drink in your hand at the party, in order to make other people feel comfortable, but I think this is unnecessary. Just take a break from drinking if you start getting into that loud, oversharey zone that, at a normal party, can be kind of fun. Or if makes you feel better to have something to hold onto (and I've been told this is why everybody used to smoke at parties, back when you could do that indoors), just sip slowly or drink beer. Or soda! Ladymags will tell you to drink wine spritzers in this situation, because of their low alcohol content — but if you go this route you're on your own, because I think they're disgusting.
Don't dress ironically.
Look, I like ironic dressing as much as the next girl — and at the right kind of party, being way overdressed or way underdressed can be funny and fun. This is not the right kind of party. So leave your feather boa/prom dress/ugly Christmas sweater/t-shirt of a state you never lived in/dinosaur costume at home. Think of your office holiday party as a five-year-old — it doesn't get sarcasm. (For more holiday dressing tips, stay tuned for tomorrow's Dress Code.)
Prep your date.
Opinions differ on whether you should even bring a date to the holiday party (assuming that a) you know someone you want to bring and b) dates are actually invited). Charles Purdy, author of Urban Etiquette, tells MSNBC that you shouldn't be "afraid" to bring somebody, because "It allows your colleagues get to see another side of your life." But Williams says "if there are career-advancing opportunities, you don't want to have to drag your partner around with you and babysit him or her." I'd go with the rule of thumb that if your date is going to make you more comfortable and also have a decent time him- or herself, go ahead and come plus one. The two really go hand in hand — you're not going to feel at ease if your date is bored and you have to "babysit."
But if you do bring someone, a little prep work is a good idea. You might want to go over some basic things like your boss's name, any coworkers who are tough to get along with, and maybe a little bit about your office culture — is it okay to curse, for instance? Are there any specific conversational topics to avoid? And if your date is someone who likes to get in spirited arguments, you might want to ask him or her to refrain for one night — just as you might at a family Thanksgiving.

Actually meet new people.