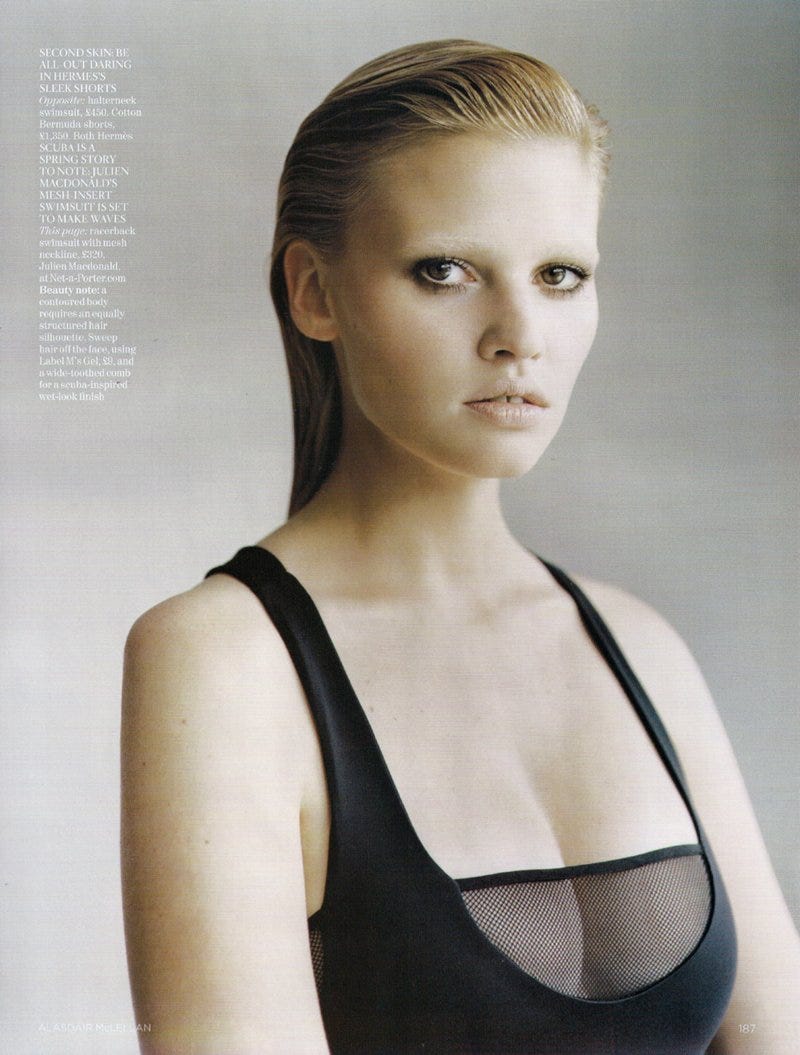 Lara Stone is a successful model and we basically love seeing her everywhere. But what we don't love is seeing all the girls who look like Lara, kinda-sorta, that the modeling industry is now promoting to ubiquity. This must stop.
It's not as if anyone can help the face they were born with — barring Lara-izing plastic surgery, which we certainly hope modeling agents aren't pushing, or de-Lara-izing plastic surgery, which we hope nobody is considering — and all of these youngsters are beautiful. (And Lara Stone's oft-remarked resemblance to another earlier beauty icon — Brigitte Bardot — probably helped her career.) I just happen to think they'd be more beautiful if they were allowed to look like themselves, rather than shoehorned into an ideal Stone popularized. Whether or not a model looks like someone else in a picture will always be more a function of the decisions of the photographer, the stylist, and the hair and makeup artists than of her own bone structure; almost anyone could be turned into a Lara double, from certain angles, for a day. And that is precisely what many top magazines and brands seem bent on doing!
Lara Stone is a face of Calvin Klein and a muse of Givenchy creative director Riccardo Tisci, Chanel creative director Karl Lagerfeld, and Vogue Paris editor-in-chief Carine Roitfeld. She's graced the cover of American Vogue, shot with Steven Meisel, Steven Klein, and every other top photographer in between, been the subject of revealing profiles and speculation about her weight, and her wedding to comedian David Walliams made international headlines. So it makes sense, in a way, that agents would be looking through their rosters with newly acquired Stone-vision, and telling their scouts to bring in more girls who have a bit of what Times fashion critic Cathy Horyn once called Stone's "burst into tears or belt you in the chops" kind of look. Specifically: blonde hair, pale eyebrows, big lips, big boobs, and, if possible, a gap-toothed smile. Fashion reduced Stone's beauty down to a formula, and now the Lara-likes are upon us.