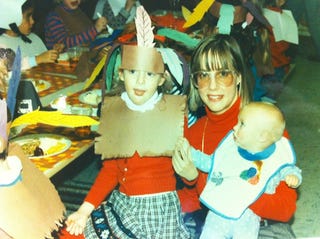 Oh, hello! My name is Katie Baker and I'll be here today attempting to assist the wondrous Jenna Sauers. I just thought I'd tell you a lil bit about myself. For starters, I am actually blogging from my mother's basement.
Let's see, what else. My interests include, but are not limited to: skiing; the evolution of Hillary Clinton's hair; parenthetical asides; cars with Wyoming or Rhode Island license plates; working through my intense love/hate with Anne Hathaway; soft-coated wheaten terriers; the way even hockey players from Connecticut speak with a strong Western Canadian accent; The Walking Dead; reminiscing about making out with guys wearing hemp necklaces at Dave Matthews Band concerts at the Meadowlands and then getting a ride home from someone's dad; and seltzer.
I have a cloud fetish. I used to be a lacrosstitute. I once cried at a McDonald's commercial. (The one with the Braille menu!) The New York Knicks ruined my childhood. I had to watch The Voyage of the Mimi twice, once in sixth grade and again in seventh, because I switched schools. As a result I know all about getting naked in a sleeping bag with someone when you get hypothermia and also I can spell the alphabet in sign language. I taught sailing to six year olds. When I was a tween I had a job moderating IRC chat rooms, but that's a story for another day. I am allergic to cats.