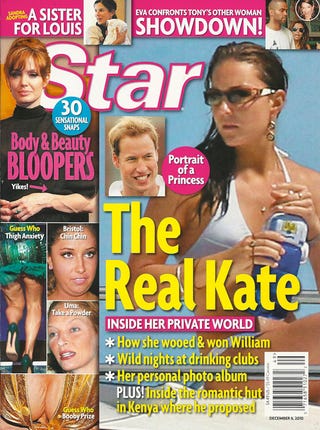 Welcome to a Very Special Episode of Midweek Madness, in which we have very little patience for crappy, recycled gossip and really just want to sleep late and eat sweet potato pie.
Since we're feeling distracted by turkeys, traveling and TSA gropes, this speed-round version of our tabloid roundup will just focus on what really matters: Which of these crappy mags you should buy to get you through a holiday weekend with your drunk, bawdy aunt who uses inappropriate language. Let's begin.
Life & Style
"Baby News"
Inside: In case you missed it, Real Housewife Kim Zolciak is pregnant. No, we don't know why Kendra's baby is wearing sunglasses. Kim was asked what it was like to see herself meeting her man Kroy Biermann on an episode of RHOA. She said: "Kroy couldn't stop laughing about how I commented on his tight butt. You know, it's such a blessing to have it all on camera. The baby will be able to see the moment his or her parents actually met. Who can say that?" Yes, watching your mom tell your dad he has a nice ass is a blessing indeed! Lastly, January Jones has "lost her curves," so we should all start to panic.
You should buy it if: You're the kind of person who likes lifting the lid on the toilet, throwing money in and flushing. Seriously, don't buy Life & Style this week.
Grade: F (un-thawed turkey meat)
Ok!
"William & Kate Wedding Special."
Inside: As you will see in a blue banner at the top of the cover, this is the "Official Magazine Of The Royals." Damn. Those royals aim low! A sidebar by "one of the world's leading interviewers," (?) Daphne Barak, reads, "Many of those closest to William tell me the proposal happened because Kate hasn't made any royal mistakes or fallen into any traps." Ha! We are completely willing to believe that the Queen is Data from The Goonies, setting up metal bear traps and digging pits and covering them with moss so that commoners will fall in. Just FYI, the "Exclusive Twilight's Hottest Love Scene" story has the same pictures that were in this same magazine last week. But we did laugh at the article featuring a lovely picture of Ms. Aniston, titled "She Looks Amazing: Jen's 1,283rd Perfect Hair Day In A Row."
You should buy it if: You're doing research on eligible princes — some good photos for stalking appear on page 41 (see image 7). We'll take Dubai and Sweden, based on looks alone. Sorry, Monaco and Luxembourg. Money isn't everything! (We also think Nicholas Sarkozy's son Jean is hot, but that is neither here nor there.)