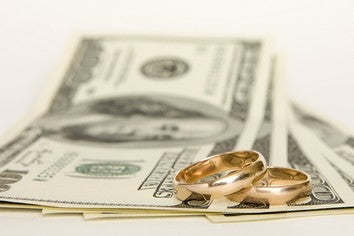 A new meditation on marriage shows that meditations on marriage may be beside the point — the biggest problem for Americans isn't love, it's money.
Writing in Time, Belinda Luscombe makes a convincing case that marriage (and here we're talking about heterosexual marriage, the only kind legal in most states) is changing. Americans are marrying later, and living together more beforehand. Both of these are old news at this point, but Luscombe does offer a pretty pithy explanation of the changing place of marriage in people's lives:
Promising publicly to be someone's partner for life used to be something people did to lay the foundation of their independent life. It was the demarcation of adulthood. Now it's more of a finishing touch, the last brick in the edifice, sociologists believe.
She also quotes sociologist Andrew Cherlin, who rather depressingly states, "Getting married is a way to show family and friends that you have a successful personal life." It's not that romantic, but maybe marriage has long been a resume item — just now it tends to go nearer the end of the resume than the beginning. The problem, as Luscombe states it, is that marriage is getting pushed farther and farther back for less wealthy and educated couples, to the point where it may be out of reach entirely.
Luscombe makes a convincing — and, on the face of it, disturbing — case that marriage is becoming more and more of a perk for the elite. She writes that, "In 1990 more high-school-educated couples than college graduates had made it to the altar by age 30. By 2007 it was the other way around." And people who never went to college are less likely than graduates to marry at all — according to Luscombe's numbers, just 48% of those with no college marry, while 64% of those with diplomas do (these numbers are lower than some others I've seen). Luscombe explains, "It's easier for the college-educated, with their dominance of the knowledge economy, to get married and stay married. The less well off delay marriage because their circumstances feel so tenuous, then often have kids, which makes marrying even harder." Growing inequality certainly seems like cause for concern — but is marriage really the issue here?