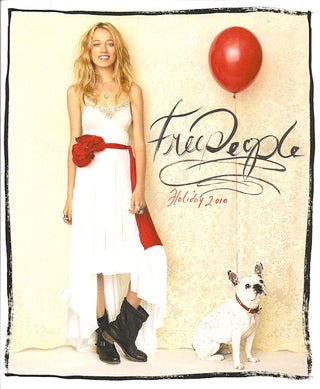 S
Free People is the land of layers and layers of overpriced, fauxhemian handmade knits and a general sloppy homeless-ish chic. In the Holiday 2010 catalog, this mismatch patchwork way of putting clothes together was passed on to the innocent kiddies.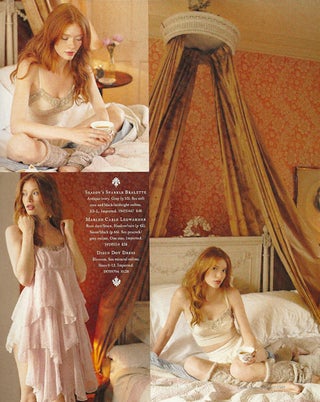 S
There are lots of filmy lingerie-ish pieces in this particular catalog, and it's clear that some of these items are meant to be worn as clothing and not undergarments — even though it's almost wintertime and they are so so sheer. The "Winter Belle" gown on the cover is pretty except for the unfortunate hemline. And the price: $298, yikes.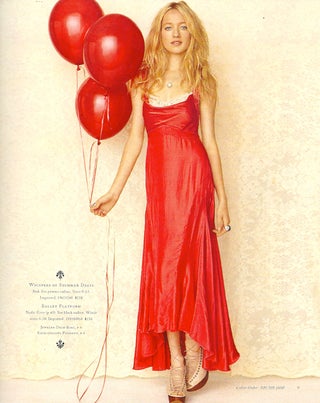 S
This model and her Blake Lively hair look great in the "Whispers Of Shimmer" dress ($198), but those shoes are unbearably fug.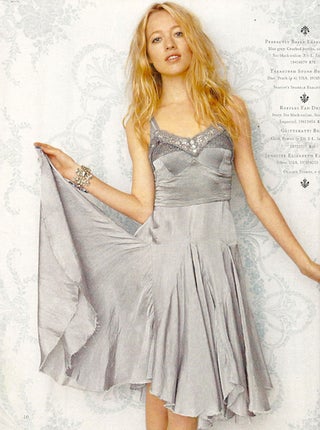 S
See, now they call this a "Perfectly Belle Layering Slip," even though the fabric is more opaque than that of some of the other dresses! $78 seems pricey if you're going to cover it up.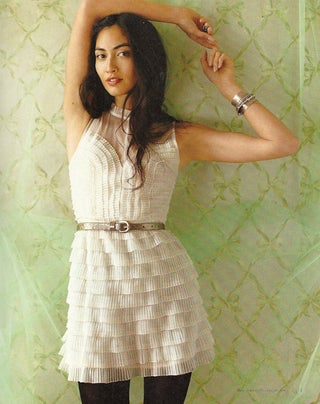 S
Sheer is prettiest when it's tailored, no? "Ruffled Fan Dress," $298.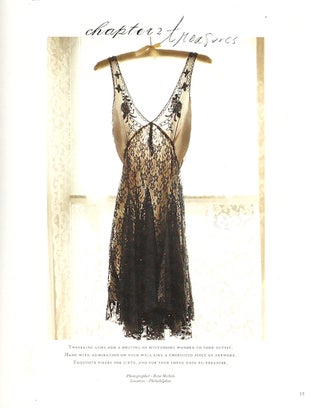 S
This here is a dress and not a slip. Pay attention, there will be a quiz at the end!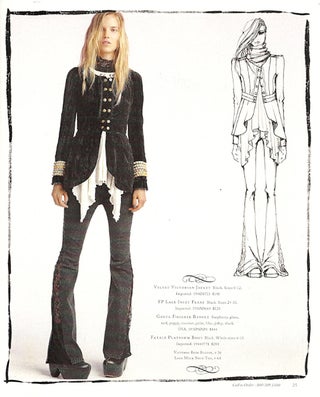 S
Velvet Victorian Jacket, $148; Victoria Rose Blouse, $118; lace inset flare jeans, $128. Looking like you raided Prince's closet in 1984: Priceless!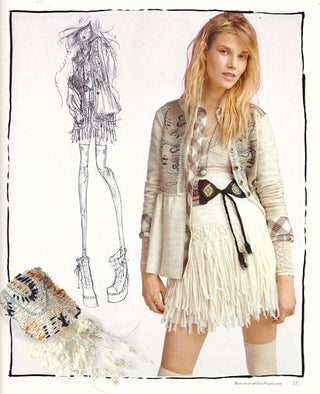 S
Oooh, this will be perfect for Ke$ha when she joins the cast of Skating With The Stars.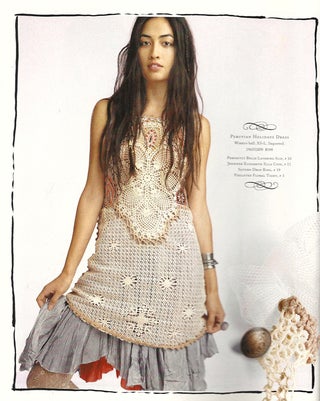 S
Pay $198 for this Peruvian dress (shown with a layering slip) or just grab your grandma's stained doilies.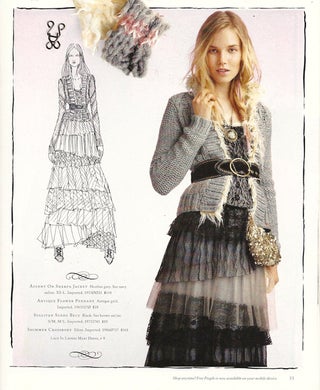 S
Attempting to recreate this may result in folks thinking you are playing Miss Havisham at the local community theater. Although did Miss Havisham have the $248 you need to buy that skirt?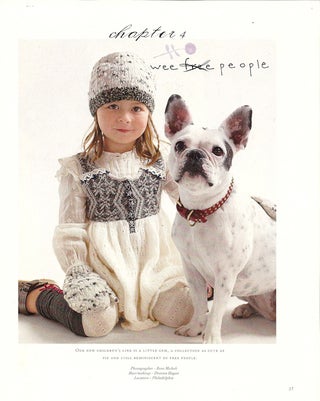 S
Wee People. Get it? WEE. Youngsters who have no choice can now wear tiny hippie threads of their own.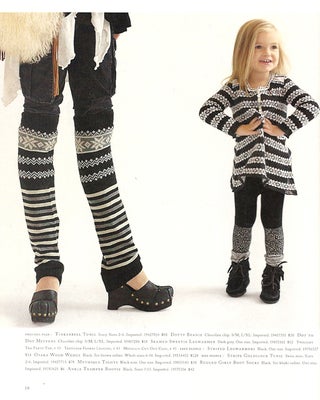 S
Let's pretend she is tickling herself with joy and not trying to suck it in and look skinnier and therefore more model-esque.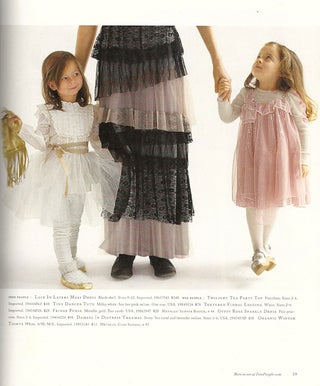 S
Frothy layers actually work on little girls — although for how long? The kids I used to babysit for could rip that tutu skirt to shreds in seconds. Not a big deal except the thing costs $78! (The adult skirt in the middle? $248.) Mommy, how do you spell trust fund?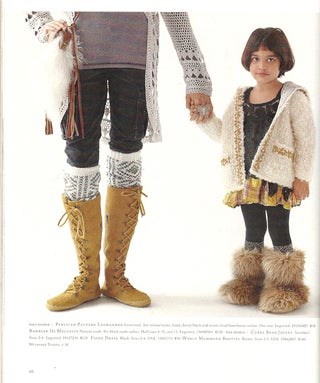 S
Someone is not happy to be modeling, and really actually kind of pissed that her teddy bear was turned into boots.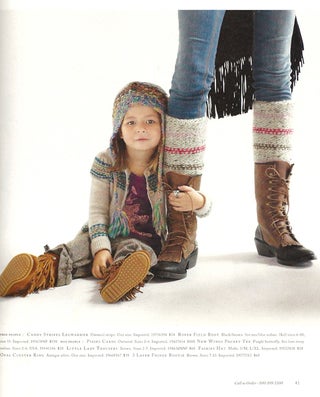 S
Melanie thought about firing her au pair, but figured she might as well get a quick tour of Stockholm first.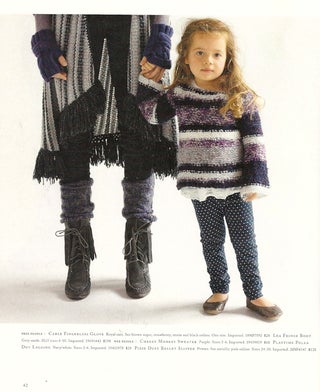 S
Laurel couldn't believe she was being asked to travel coach.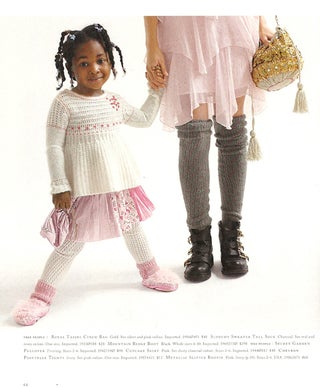 S
Veronica wasn't sure how she ended up being the only black person in the whole damn catalog, but hoped they'd let her keep the slipper boots.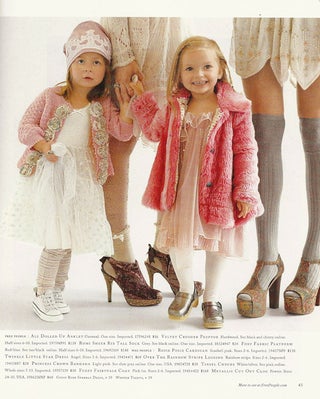 S
The pink cardigan is $138; the pink fur is $168 and some sort of girly threshold has definitely been reached. All. Maxed. Out.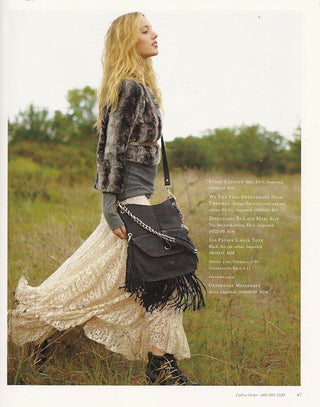 S
It's crazy that this wacky thrift-store-chic ensemble is so expensive! The furry capelet is $168; the maxi slip is $148; and the bag is $248. But it looks like she brought a bunch of things into the Salvation Army dressing room, put them on, and then discovered that there was a passageway behind the mirror that led to a grassy meadow.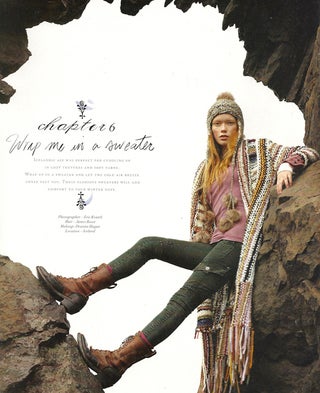 S
Things It Would Be Best Not To Go Rock Climbing In: The Technicolor Dreamcoat, $168.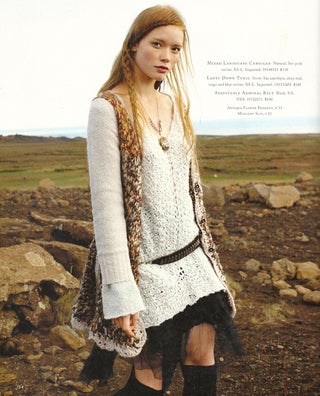 S
I don't know about you, but I love buying knitwear that is already misshapen and lumpy and looks like once you stretch it over your body it will just do its best to make you look terrible. My favorite kind!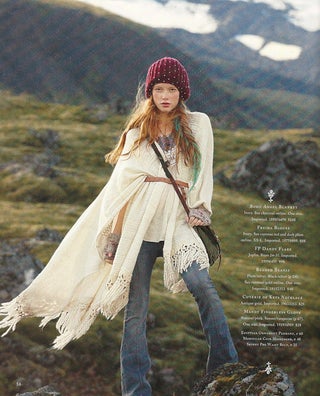 S
Snuggies are sooooo yesterday. Blankets are in! I dare this woman to ride a New York City subway without getting that thing caught in a door or wrapped around a candy-stained child's face or attacked by filthy track rat.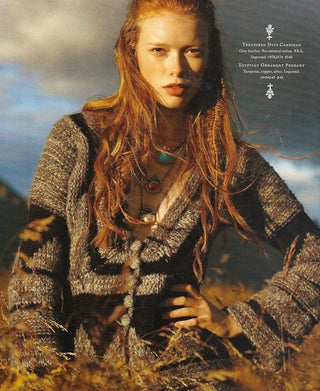 S
And here we have the essence of Free People: Gorgeous model, stunning location, beautiful, luminous photograph, hideous sweater.
Free People [Official Site]
Earlier: Free People: For March, The Ugliest Shoes & Clothes To Match
Free People & The Ugliest Shoes Ever Conceived
February At Free People: Faux Flower Child Fashion Costs A Pretty Penny
Related: Anthropologie's New Models Are Total Animals
LL Bean Signature: A (Kind Of) Youthful Spin On Woodsy & Preppy