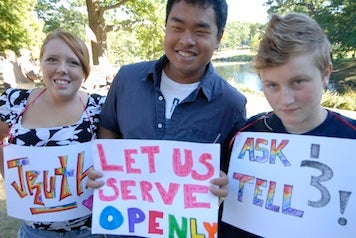 Defense Secretary Robert Gates recently said, "I would like to see the repeal of 'don't ask, don't tell,' but I'm not sure what the prospects for that are and we'll just have to see." That's an understatement.
First, there's his own subordinate, the new commandant of the Marines, James Amos. He made his own statement to reporters Saturday, saying he thought it was too soon to lift the policy while the U.S. fights two wars. ""There's risk involved," he said. "I'm trying to determine how to measure that risk. This is not a social thing. This is combat effectiveness."
A social thing? He's right. This is not about whether the gays can have rainbow-themed, Speedo-wearing mixers on the base. It's a rights thing. Or a legally-codified discrimination thing, whatever.