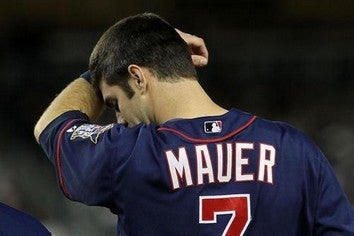 My most complicated and heartbreaking relationship is with a group of men who probably couldn't care less about me, and yet, I can't ever see myself leaving them.
They raise and dash my hopes more than 162 times a year. They break promises, they lie. They keep me up worrying about them at night and yet they're indifferent to my suffering. They abandon me every winter and return every spring like nothing happened. My most chaotic, emotionally draining relationship is with the Minnesota Twins.
As I watched the San Francisco Giants celebrate their World Series victory over the Texas Rangers on Wednesday night, I felt a pang of sadness. I wasn't upset that the Giants had won — seeing Tim Lincecum sad at the hands of possible future Yankee Cliff Lee would have done confusing things to me — but I was upset because that should have been my team. That should have been the Twins, the team that's won the AL Central Division Championship six of the last ten years and yet managed to lose their last 12 playoff games (that's the equivalent of getting swept multiple times. That is a tradition of sucking in the postseason). The nationally celebrated facial hair of the moment shouldn't have been Brian Wilson's beard, but Carl Pavano's mustache. This was all wrong. I'd been let down again, as I have been every year since 1991. When I was 8.
At least my relationship with the Twins involves some positive memories prior to the disappointment. If the Minnesota Twins were my boyfriend, they'd be the type of boyfriend who surprises me with a trip to Italy and then forgets my birthday. Other teams I support aren't as kind. For example, if Notre Dame football were my boyfriend, it would be the kind of boyfriend who would give me the silent treatment for days after refusing to have anal sex in a Target dressing room during business hours and then sleep with my sister after accidentally losing my cat. If the Minnesota Timberwolves were my boyfriend, they'd constantly tell me I'd be way hotter if I lost 10 pounds or if my boobs were bigger. If the Minnesota Vikings were my boyfriend, they'd stick with me through my cancer treatments only to get busted for leaving creepy voice mails for a buxom twenty something sideline reporter.