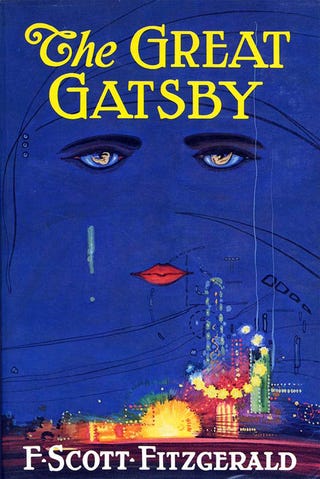 Baz Luhrmann — know for his vivid, colorful, theatrical films like Romeo + Juliet and Moulin Rouge — is tackling F. Scott Fitzgerald's The Great Gatsby next, and the female lead, Daisy Buchanan, has not been cast.
Daisy, played in a 1974 version of the story by Mia Farrow, is a 23-year-old heiress described as "engaging and attractive, pampered and superficial with a largely ignored three-year-old daughter. " She may have been based on Fitzgerald's wife, Zelda, "the first American flapper," or on Ginevra King, a World War I-era Chicago debutante with whom Fitzgerald was infatuated. Fitzgerald and King had a romance that was not to be; King allegedly inspired Fitzgerald to write the words: "Poor boys shouldn't think of marrying rich girls."
According to Wikipedia:
On July 15, 1918, King wrote to Fitzgerald, telling of her engagement to William Mitchell, the son of her father's business associate. They married later that year and had three children. Then in 1937, she left Mitchell for businessman John T. Pirie, Jr. (of the Chicago department store Carson Pirie Scott & Company). That year she also met Fitzgerald for the last time in Hollywood; when she asked which character was based on her in The Beautiful and Damned, Fitzgerald replied, "Which bitch do you think you are?"
So who should play this pretty, heart-breaking heiress? Some choices:
Rebecca Hall
At a table reading of the script, Luhrmann had Rebecca read the part of Daisy, with Tobey Maguire reading Nick Carraway (the Midwestern narrator who rents a bungalow between mansions) and Leonardo DiCaprio reading Jay Gatsby (the wealthy, mysterious man with the mansion next door). According to Deadline Hollywood, Rebecca is in the running, but Luhrmann is interested in casting a wider net. While Rebecca was sensational in The Town and Vicky Cristina Barcelona, she has a certain seriousness and gravitas about her. We picture Daisy as slightly more flighty — yet devious.
Amanda Seyfried
Amanda is allegedly on Lurhmann's list of possibilities. She was awesome as a manipulative sexpot in Chloe, but has proven that she can also do comedy and romance. She's got a great mix of innocence and knowing. And, as seen in Mama Mia!, she can sing. Luhrmann's not making a musical, though. Fingers fucking crossed.
Blake Lively
While Blake is supposedly on Lurhmann's list, she is all wrong for the part, just like she's all wrong for Serena van der Woodsen. Sure, Anna Wintour loves her, but Blake lacks the bon vivant effortless snobbery and casual hauteur of the terribly rich. Opinion: She sucked in The Town.
Michelle Williams
Michelle has astonishing acting chops, and there's no doubt she would do a great job. But somehow Daisy seems more… sparkly, and immature? No? (Michelle is on the list, however.)
Keira Knightley
The undisputed queen of period pieces is also on Luhrmann's list. Keira can certainly play "pretty heiress." But can she play superficial heartbreaker? She wouldn't be my first choice.
Scarlett Johansson
ScarJo usually gets roles like this, which means she should stop being predictable. Also, even though she is 25, he doesn't exude the youthful, erratic silliness Daisy needs. (She is on the list, of course.)
Natalie Portman
America's favorite manic pixie dream girl is pretty perfect for the part, and Deadline Hollywood's Mike Fleming writes that he's heard Luhrmann is "sweet on" her.