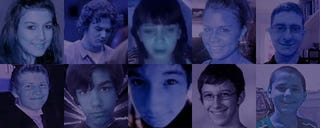 Defense lawyers now say Tyler Clementi's bullying wasn't as bad as it seemed — but the invasion of his privacy was still a standout in a year that's been rife with bullying incidents. After the jump, a timeline.
Many of the teens and young adults below were bullied for their sexual orientation, but not all. Their injuries and deaths should remind us that for too many young people, school isn't safe — and that's something that desperately needs to change.
January 14: Fifteen-year-old Phoebe Prince, who was bullied at her high school in South Hadley, Massachusetts, committed suicide. Nine teens were charged in connection with her death, and though some have questioned whether bullying was really the cause, the case did direct a lot of attention to the problem. Unfortunately, "attention" does not equal "solution."