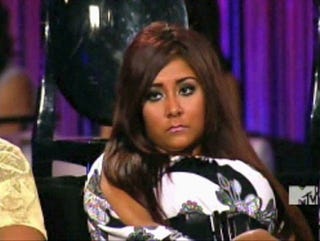 Last night's reunion was disappointing in many ways—the canned laughter, the lack of meaty questions, the focus on Sammi and Ron's tired bullshit—but perhaps the biggest offense was that it was simply boring.
1.) The cast's admitted (and accepted) sexual double standards was not addressed, but celebrated.
Instead of delving into (in my opinion) the most interesting issue that popped up on the show—how Angelina was vilified for her alleged promiscuity, while the male roommates congratulated themselves on their own multiple hookups—host Julissa Bermudez completely dropped the ball. Her jovial and bubbly discussion of "DTF" with The Situation, Vinny, and Pauly endorsed, rather than questioned, the guys' cognitive dissonance when it comes to berating "easy" women yet also preying on them. What's more annoying is that she didn't take the men to task for labeling some of the women they met as "grenades" or "zoo creatures"—terms that are supposedly used to describe their looks, but are clearly masking the guys' own sexual insecurities when they were being rejected.