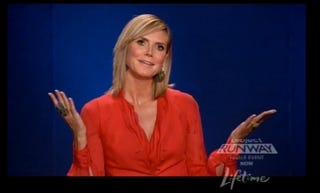 Is anyone else ready to quit watching this damn show?
Maybe I was drunk, but the finale seemed endless. Peach is a gay icon, okay, let's move on! The runway shows are what we're here for! In general, the three finalist's clothes looked a lot better on the New York Fashion Week runway at Lincoln Center than they did on the ProjRun catwalk. But in the end, the whole thing was a huge disappontment.
Gretchen showed her boring monochromatic hippie crap. A short clip at left; more images from the runway show (which featured ten designers) here.