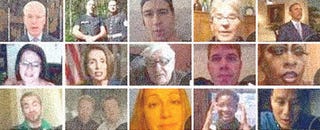 Dan Savage's It Gets Better Project has generated tons of amazing videos. We've selected 15 of note, from the President, a Marine, Vinny from Jersey Shore — and lots more.

Tim Gunn
Tim Gunn discusses his suicide attempt and chokes up while offering his support in this incredibly moving video.



Cop and Marine
JD and Alan seal their "It Gets Better" message with a kiss.



Vinny Guadagnino
I wouldn't usually think of Jersey Shore's Vinny as an advocate for gay rights, but this video is actually pretty sweet.

Rev. Meg Riley
An openly gay Unitarian minister, Rev. Riley offers a message that's more somber than most — it won't quickly, easily get better for everyone. However, she says, "so much of who I am, what I know, and the gifts that I bring come from my struggle."

Barack Obama
A nice enough message, but actually getting rid of Don't Ask Don't Tell might do more to make things better.



Samantha Lauzon
Lauzon shares her story of gender transition at age 13, and how much better her life has gotten since then.



Nancy Pelosi
Speaker Pelosi mentions the Hate Crimes Bill as evidence that Congress is working on behalf of LGBT people. Unfortunately, not everyone feels the same way she does.

Gay Elders
"Been there, done that, and here I am," says one of the awesome older people in this video. Says another, "it gets funnier."

Perez Hilton
Whether Perez will really stick to his no-bullying policy is an open question, but this video is still kind of charming. I like how he points out his pimple and acknowledges that many people find him "annoying."