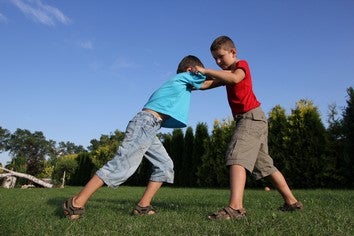 A new survey shows bullying is, indeed, disturbingly prevalent: half of teens said they'd hit someone in the past year. Is the cause a shortage of hugs?
Sharon Jayson of USA Today reports on the Ethics of American Youth Survey, which talked to over 40,000 kids between 15 and 18. Of those surveyed, half said they had "bullied, teased or taunted someone at least once" in the past year, and 52% admitted to hitting someone in anger during the same time period. Interestingly, only 28% of kids — 37% of boys and 19% of girls — think hitting or threatening someone is okay, so at least some of them feel bad about it.
If the survey data is accurate, the high-profile bullying incidents of the last year are part of a larger pattern — one experts are struggling to understand. Professor Sally Kuykendall blames violence in the media and abuse within families. She says kids are learning that "if you have a problem, you deal with it through violence. When children are exposed to violence, they're going to think that's the way to handle problems." But psychologist Darcia Narvaez has a more radical theory: she blames bullying on a lack of hugging. Narvaez, who also advocates a return to some prehistoric parenting tactics, says kids are getting less "positive touch" these days because strollers have replaced the parental embrace. Kids who miss out on cuddling may have impaired self-regulation skills and even empathy, making them more likely to lash out at others.