Feline entertainer Katy Perry and grizzled comedian Russell Brand will tie the knot this weekend at the Sher Bagh resort outside the Ranthambhore tiger sanctuary. In this gallery, get a sneak peek at the backdrop for the Perry-Brand nuptials!
UPDATE: Though some guests will stay at Sher Bagh, Katy Perry and Russell Brand will stay at Aman-i-Khas resort, and the ceremony will be there, too.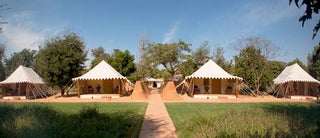 S
Sher Bagh resort features "authentic Indian jungle camps."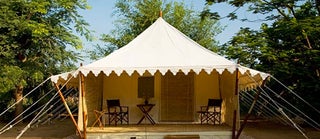 S
Each tent has its own little veranda, and they're arranged in a semi-circle around a garden.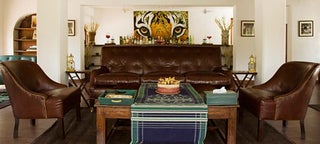 S
The spacious, airy main lodge has a sitting area and an excellent library-bar on the upper level, ideal for a beer or bloody-mary between jungle drives.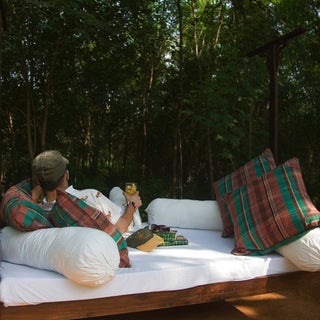 S
Guests should feel free to gaze into the jungle and wonder if the Arthur remake is going to be atrocious.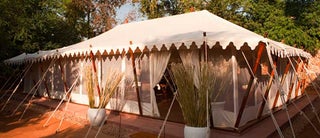 S
According to the resort's website, the food at Sher Bagh is delicious. The camp has its own organic vegetable garden.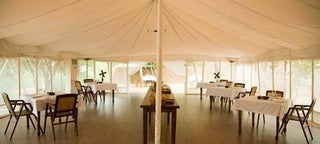 S
Breakfast consists of bacon and eggs, fresh fruit, yogurt, muesli, freshly baked bread and home-made marmalade.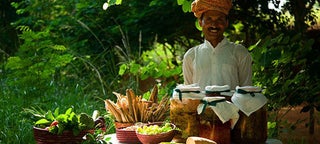 S
This man has heard that California girls are unforgettable, what with their Daisy Dukes and bikinis on top.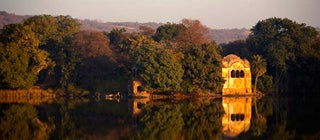 S
This peaceful scene will soon be shattered by the sound of people singing "Furry Walls."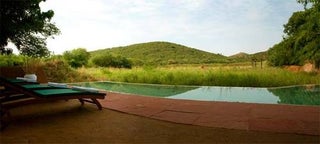 S
By day, expect to see bridesmaids — including Rihanna — sunbathing.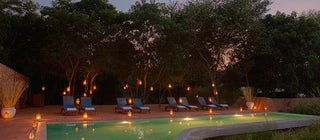 S
By night, expect to see Russell Brand skinny dipping.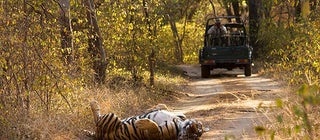 S
And, of course, there are TIGERS! This should be awesome.
Sher Bagh Resort [Official Site]