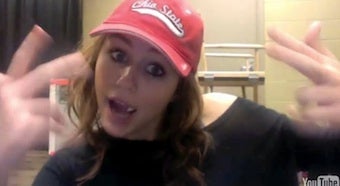 Since the invention of rap, celebrities have operated under the mistaken assumption that anyone who can speak over a beat can rap. Here, we've compiled 15 of the most mortifying rhymes from stars including Tom Hanks, Miley Cyrus, and Oprah.
15) Eva Longoria
First Kim Kardashian and Kris Jenner illegally pose for pictures in front of the Mona Lisa, and now Eva Longoria stars in this commercials for the MTV's European Music Awards. Don't be surprised if Europeans see this as an all-out trans-Atlantic attack.



2) Tyra Banks
Tyra rhymes about her love for Bow Wow... and bacon.




13) Matthew Morrison
This clip from Glee is taken out of context, but even if you watch the show there's no reasonable explanation for Mr. Schue singing "Thong Song" to a teacher wearing a wedding dress while on school property. This and several similar numbers by Matthew Morrison inspired the petition "Please Stop Making Will Schuester Rap In Glee."



12) Miley Cyrus
Why release a boring statement about quitting Twitter when you can make a long-winded rap video about it? Sample lyric: "The reasons are simple, I started tweeting 'bout pimples."




11) Rodney Dangerfield
This was one of the first "rap" videos played on MTV. The next time you hear someone complaining about how the network doesn't play music anymore, remember it could be worse.



10) The Situation
Actually we take that back. MTV today is much worse, if only because it enabled the Situtation to record this car alarm-inspired track.



9) Oprah
Rapping is not one of Oprah's favorite things.