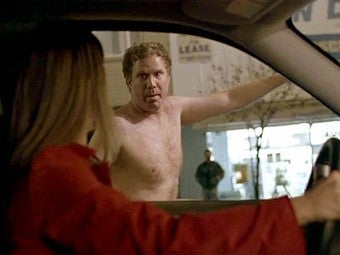 It is a truth universally acknowledged that college students love running around naked. And grownups love reading about it.
David Thier illustrates both points with his Hustler piece on Yale not-so-secret society The Pundits (warning: accompanying photo contains butts, a hint of side-boob, the back of a guy's balls, and a naked dude wearing socks). The Pundits enjoy a variety of pranks, tomfoolery, and hooliganship, but "infamous naked parties may be their most important contribution to the Yale scene, allowing hundreds of students to examine each other's pubic groomings." Hundreds of students, that is, and Times journalist Rachel Aviv, who was treated to an evening of board games, naked charades, and some apparent orgy preparations, until she "could do nothing but struggle to jot down a few notes and then slide her pants back on."
Aviv's piece ran back in 2007. Thier's appeared just this month, but it was apparently written a few years ago, when he was a sophomore at Yale — just a little younger than I was when I wrote my "college naked time" piece. I was a junior when I started writing for non-college papers, and my first reported piece ever was this one, titled "Holiday Humiliation." For those who don't want to read my juvenilia, it tells the story of a Stanford tradition wherein students force each other to perform embarrassing stunts, many of them involving nudity. One guy, for instance, had to walk around wearing nothing but shaving gel on his junk. He also had to pee himself at some point, but it's not totally clear from my piece when or how that happened. In 2003, I had a lot to learn about journalism.
However, I already knew a lot about nudity. As I've mentioned, the co-op I lived in that year was a pretty naked place. We had co-ed communal showers, but that was just daily functional nudity. We also had our ritual nudity — our topless canoe trip, our quarterly naked group photo in the shower. There was talk of naked cook crew, although I never saw this actually happen — and given the kinds of kitchen mistakes we were prone to (I once saw a guy take a giant slug of olive oil while cooking, thinking it was beer), that's maybe kind of a blessing. I'm not telling you these stories because my co-op was especially wild-n-crazy — it wasn't. The point is, college ritual nudity is a pretty widespread Thing.