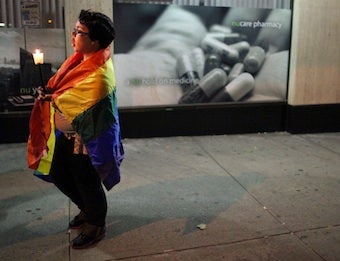 The past 24 hours are typical of the strange, complex position of gay rights today: On the same day of a judge's injunction blocking Don't Ask, Don't Tell, the Obama administration appealed on behalf of the Defense of Marriage Act.
Specifically, the Justice Department filed its appeal in Massachusetts, citing the 1996 Defense Of Marriage Act (DOMA). In that case, Judge Joseph Tauro had ruled that the act, which denies federal benefits to couples legally married in that state, violated the equal protection clause of the constitution. President Obama is on record opposing the Defense of Marriage Act (which, like Don't Ask, Don't Tell, was passed during the Clinton administration) but a spokeswoman said, "The Department of Justice has a long-standing practice of defending federal statutes when they are challenged in court, including by appealing adverse decisions of lower courts."
And, as we noted yesterday, a California judge followed up her ruling DADT unconstitutional with an injunction barring the discharge of gay and lesbian servicemembers. The Obama administration is probably going to appeal that too, and a stay is expected, meaning the policy will stand until further notice. On the other hand, he could listen to the 21 senators who asked him and the Justice Department not to appeal.