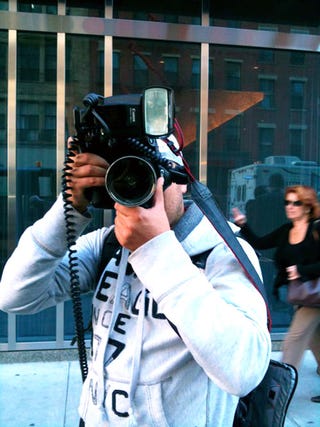 "He comes out at eight," Wagner says. It's 7:45 am on Friday, and we're part of a small group gathered across the street from the apartment building where Michael Douglas lives. Everyone is a paparazzo except for me.
I'd been trying to shadow a paparazzo for a while, to get a behind-the-scenes look at the juggernaut of today's "celebrity" industry. When it comes to celebrity "news," more and more, paparazzi pictures — a candid image of a celebrity doing something — are all the "news" consists of. But how much do we know about where these images come from?
A rep for from Pacific Coast News — an agency we use often — suggested a freelancer named Wagner. I tried to find him during the summer, but he was in Seaside Heights on the "Snooki beat." Once he returned from Jersey, it took us some time to pick a date that would work for both of us. But he told me that he spends the day on his bike, and that if I had one, too, I could follow him.
So Friday I woke up at 5:30 am, walked the dog, took a shower, put my crappy Huffy on the D train and arrived (early) at the designated location, across the street from where Michael Douglas was expected to emerge and walk his daughter to a black SUV that would take her to school. When I showed up there were already three other guys with big backpacks hanging around the location. Paparazzi. Men of varying ages, in the same kind of purposely nondescript clothing: jeans, or black t-shirts, hats or baseball caps. Easy to blend in. Easy to forget.
When Wagner shows up he emanates energy. He's 32, Brazilian, brown-eyed, stubble-faced. Compact, quick to smile, bouncy, restless. He shakes hands with the other guys assembled; as I'll see throughout the day, there's a camaraderie and brotherhood amongst the paparazzi. As he shows me his camera and tells me it is worth $6,000, a woman with a kid in a stroller asks, "Who are you guys waiting for?" She seems to have noticed that seven or eight dudes with long-lensed photographic devices have gathered in one spot. "Nobody," says Wagner, and after she's gone he shows me the duct tape wrapped around his lens, on which the word "nobody" has been written in Sharpie. "So no one can identify you," I say. He nods. "Who is that? It's nobody. I'm nobody, I work for nobody."
Wagner starts talking to a fellow snapper, who asks if he heard about the fight last night. "The Kardashians," the guy explains. "Fighting in some club. It was so fake. The bouncer says there's a fight, and then the girls come out, all dramatic, and then Scott comes out talking loud…" The guy rolls his eyes. Suddenly a black SUV pulls up in front of Douglas's building, and all the guys take their cameras out. They hustle across the street, staying behind the car — and at the end of the property line. The doorman pretends not to notice and waves to a maintenance man opening the door of a church further down the block. A moment passes. People walk by. Cars driving by slow down, to see what's happening. But nothing is happening. The paparazzi are poised, in position, waiting. The doorman is waiting. I'm across the street. Waiting.