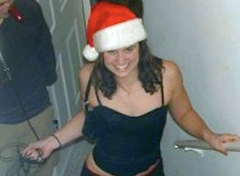 There is a woman running for Congress named Krystal Ball. This alone might be enough to titillate reporters. But also, she once went to a Halloween party with her then-husband on a leash, a dildo on his nose. Uh oh.
From the start, the coverage of Ball, 28, and her campaign has stretched credulity. Last year, when she announced her candidacy, the local NBC affiliate ran this story, headlined," Krystal Ball — the Future of The Hill's Most Beautiful." It actually went downhill from there. Some highlights:
Why isn't Congress concerned about babies? Because they don't have enough of them! They're all too old to remember what parenthood's like, what parents are concerned about. As a congresswoman, Krystal Ball will serve as mother to all the babies in the country.
That alleged saintly purity, so instrumental to serving in Congress, is despite the fact that she has, in the words of this reporter, "a name out of the adult entertainment industry." And is a Democrat. But clearly, names are destiny, because now, according to TBD's Amanda Hess, the local press is obsessing over an issue that no one cares about.
Basically, one Halloween six years ago, Ball dressed up as a "sexy" Santa. We put sexy in quotation marks because, well, we consider the bar for sexed up to be higher than a black tank top. She also had her then-husband on a leash, meant to be Rudolph the Red Nosed Reindeer, whose red nose was a dildo. In one of the photos taken at the party, she is sucking that dildo. And then conservative bloggers leaked those photos.