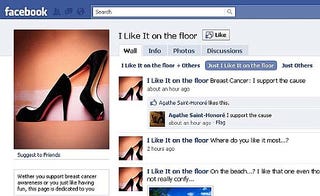 The "I like it on the floor" Facebook meme is the latest "sexy-breast-cancer-awareness" campaign. Is all awareness good awareness, or at a certain point does purse-innuendo just...have nothing to do with breast cancer?
Maybe you've seen the status updates. "I like it on the floor," someone will write, or "I like it on the table" or "I like it anywhere."
"It" stands for "where you like to put your purse" and, in the tradition of "my bra is red" and "I heart boobs," it's a meme designed both to mystify men and raise breast-cancer awareness.