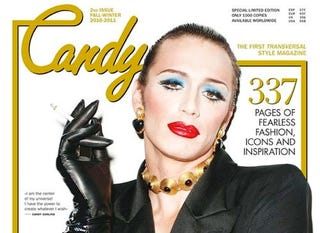 James Franco is wearing red lipstick, blue eyeshadow and heart-shaped earrings on the cover of Candy — the first transversal style magazine.
According to a blurb:
"CANDY is the first fashion magazine ever completely dedicated to celebrating transvestism, transexuality, cross dressing and androgyny, in all its manifestations. Never before in history, have men and women had so many opportunities for body modification, or so many ways to change their appearance from head to toe: from the softest options like make up, to permanent transformations courtesy of the surgeons' knife."
The photo was shot by our dear old friend Terry Richardson. Of course.

James Franco has been exploring sexuality for sometime — his art show included lots of male genitalia; in his student film he "dashes" through the Louvre wearing a penis on his nose. He did an interview with The Advocate, the world's leading gay news source. He's played gay men, and directed movies about gay men. He says he's not gay, but he certainly seems interested in sexual identity, gender and self-expression through performance art.