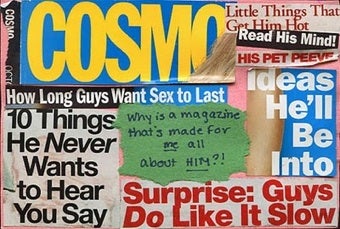 In what is perhaps a strange homage to Breast Cancer Awareness Month, Cosmopolitanis currently running a feature on their website titled "50 Great Things To Do With Your Breasts," and guess what? Most of them revolve around dudes. Sexxxay!
As an anonymous poster on PostSecret asked earlier this morning, "Why is a magazine that's made for ME all about HIM???" And the answer, dear poster, is this: the only way to be a truly fun, fearless female is to make sure that you center your entire being around what guys want. You'll never get anywhere in life unless you lose that weight, wax those pubes, be the girl of his dreams, regardless of what your dreams and/or actual personality might be, and base your entire self-worth around validation from men. Because that's what being an independent Cosmo girl is all about: recognizing that everything you do is stupid and wrong, unless it helps you trap a man.
And while the rest of the world is "celebrating" Breast Cancer Awareness Month by bringing attention to an illness that can, at times, leave women without their breasts due to life-saving mastectomies, Cosmo has decided to spotlight the sexy side of breasts, namely, how you can use them to boost your self-confidence and improve your sex life by, well, by basically making them super-hot for dudes.
7. Overheated at the beach? Slip an ice cube out of your drink, and glide it over your cleavage.
I'm pretty sure that it is absolutely impossible for Cosmo to dole out any advice that doesn't include the obligatory "sexy ice cube" reference. The world could end tomorrow, and in a post-apocalyptic society, Cosmo will still find a way to run "Nuclear Winter Got You Down? Warm Things Up With The Hot Power Of Sexy Ice!"