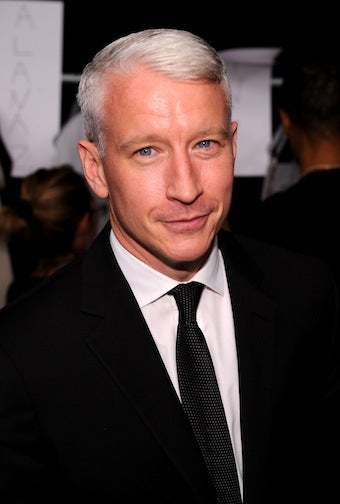 Anderson Cooper has inked a deal to host a syndicated daytime talk show that's being billed as a possible Oprah replacement. What will this mean for daytime TV, and AC, who remains quiet about his private life?
The Hollywood Reporter reports that Anderson has made a deal with Telepictures Productions and Warner Bros. for a new show that will launch in fall 2011. He's worked out an agreement with CNN that will allow him to continue doing Anderson Cooper 360 at night. According to THR, the new show,
Will not have a hard-news focus, though given Cooper's background, he'll bring a more journalistic approach to handling popular topics compared to most daytime fare. The show is billed as a topical format that will cover everything from celebrities and pop culture to social issues and wide-interest news stories.
Anderson released a statement saying,
Over the course of the past few years, I've had the opportunity to work on a number of daytime programs... It's fun and interesting to work in daytime television. The format is unique and you can really go in-depth on a wide range of fascinating and compelling stories. With this new program I hope to relay important information and relate to people and the audience in a completely different way. It's an exciting opportunity to show another side of myself and create something worthwhile and special in daytime.
Anderson frequently fills in for Regis Philbin on Regis & Kelly and is utterly charming in the AM. Hosting two shows is really ideal for him. While guest-hosting Regis, he's demonstrated an incredible talent for feigning interest in Kelly Ripa's children and dishing about reality TV, however, it would have been a shame to lose one of America's most talented news anchors to the inanity of daytime TV. Now we're free to enjoy him making fun of Living Lohan, impersonating Paula Abdul, and trying on funny glasses without feeling guilty about tragic events going unreported.