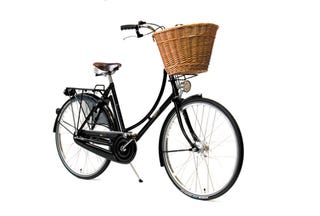 George Bliss, who owns Hudson Urban Bikes in a posh part of New York City says of women: "They are my best customers."
Mr. Bliss explains, in today's New York Times:
"They want more things - fenders and baskets and chains and bells and things to carry their kids and their dogs."
The Times is late, as usual, since ladies with bikes have been de rigeur on street style blogs for a while. As I have mentioned before, I love riding my bike (sadly, the Hello Kitty one was stolen, I've got a cheap-ass Huffy now). I love sitting up high, feeling the wind in my hair, getting across town faster than walking. But suddenly it's not enough to ride! I've got to look good!