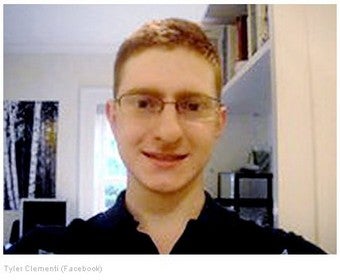 The Rutgers sex-spying case is the latest in a string of tragic stories about people committing suicide after having been allegedly bullied, harassed, or violated. But can people truly be "driven" to suicide?
Tyler Clementi, who jumped off a bridge after his fellow student taped him having sex with another man is just the most recent in a series of suicides possibly triggered by the actions of others. Thirteen-year-old Asher Brown shot himself last week the same day he came out to his parents; they blame schoolmates who mocked his size, his clothes, his religion, and his sexual orientation. Fifteen-year-old Billy Lucas was also the subject of bullying and homophobic slurs at school; he committed suicide earlier this month. Some have blamed Virginia Quarterly Review managing editor Kevin Morrissey's suicide on workplace bullying. And of course there's Phoebe Prince, whose alleged bullies are facing criminal charges after her January suicide.
In the last two cases, some have questioned how big a role bullying played. In a series of articles for Slate, Emily Bazelon argued that Phoebe Prince was depressed long before her classmates began mistreating her, and that this mistreatment may have been exaggerated. Bazelon also wrote about Morrissey's suicide — she pointed out that although Morrissey definitely had a contentious relationship with his boss Ted Genoways, he also had a history of depression, and his family didn't blame Genoways for the suicide (nor did he mention Genoways in his suicide note, as had previously been reported).
Clementi's case seems a bit more clear-cut. If all the allegations are true (and alleged perp Dharun Ravi's Twitter suggests they are), then Ravi and fellow student Molly Wei not only invaded his privacy and broadcast sex footage of him without his consent, but also might have outed him to other students and anyone watching via iChat. We don't know whether he was openly gay, and we don't know the exact reasons for his apparent suicide. But we do know that his death directly followed a disturbing violation, one that may have made his sexuality public before he wanted it to be so.