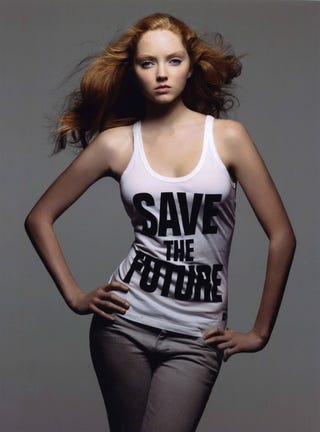 So-called "ethical" fashion is going high-end. This season, there were major ethical and "sustainable" fashion shows at both Paris and London fashion weeks, the latter held at Prince Charles' house. And luxury conglomerates want a piece of the "green" action.
Louis Vuitton Moët Hennessy, for example, earlier this year bought a 49% stake in Edun, the ethical fashion line that has sucked up some $20 million of Bono and Ali Hewson's money since they founded it, in 2005. Competitor Richemont has a "green handbook."
Pinault-Printemps-Redoute backs the label Stella McCartney, and in 2009 supported the release of Yann Arthus-Bertrand's film Home, which is sort of a Glenn Close-narrated Inconvenient Truth of environmental awareness. Home attacks everything from unsustainable farming practices to the oil industry to deforestation, and those are all PPR brands that zoom by in the opening credits.
It's not that it's necessarily impossible for men who have been made unimaginably wealthy by unsustainable manufacturing — like François-Henri Pinault and Bernard Arnault — might also care on a personal level about the welfare of the planet and its people. They may even care quite sincerely. But it is perhaps a little disingenuous for the luxury industry to be sending this kind of a message. Fashion is a deeply wasteful industry, and a key driver of the entire consumption-as-self-actualization paradigm that contributes so greatly to the destruction of limited resources (see: dust cloud in the Gobi desert, cashmere and; the environmental disaster of the Aral sea, cotton and; ozone depletion, nylon production and). The green revolution will not be brought to you by Aveda.