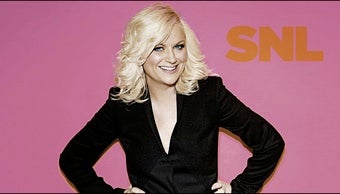 The 36th season of Saturday Night Live premiered last night, and though former cast member Amy Poehler was the night's host, she wasn't the only blast from the past who made an appearance.
After a cold open featuring Kristen Wiig as Christine O'Donnell, Poehler took the stage and described the strange, anxiety-ridden dreams she used to have while she was a cast member on SNL, setting up cameos from Rachel Dratch, Tina Fey, Jimmy Fallon, and honorary cast member Justin Timberlake. It was a fun and exciting way to kick off the show—and the season—but at the same time slightly depressing, in that it was a reminder of how much the presence of all of the show's guests, including Poehler, is missed on the SNL stage. Still: four new cast members were introduced tonight, as well, and every season brings the promise of memorable characters and sketches, so perhaps it's best to look forward instead of looking back.
All in all, not a bad start to the season. Next week: Bryan Cranston and Kanye West, who, earlier this year, dissed SNL in his song, "Power." Should be interesting to see how they'll handle that.
Want to watch the show for yourself? NBC has clips up here.