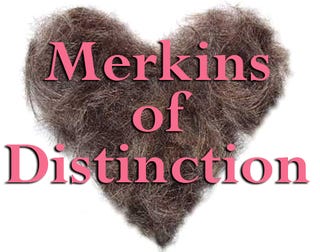 On Sunday's premiere of HBO's Boardwalk Empire, an actress wore a pubic wig to compensate for her own modern aesthetic. Mostly, merkins are employed to sidestep more restrictive MPAA ratings, but our collection of famous fake fur is still NSFW.
The Daily Beast interviewed Nicki Ledermann, the makeup artist who worked on Boardwalk Empire, who confirmed that a merkin was, indeed, used on the actress playing a corpse in order to "keep it real" in regards to the Prohibition-era in which the series takes place.



Similarly, Kate Winslet famously donned a merkin for her Oscar-winning role The Reader, saying that she tried to grow her pubes out for the role, but that after "years of waxing…it doesn't come back quite the way it used to.