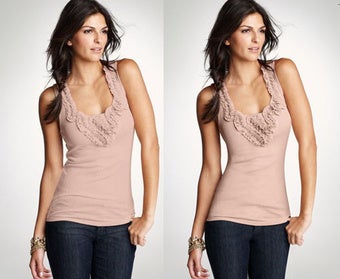 Next month, the British government will meet with advertisers, fashion editors and health experts to discuss airbrushing and photoshop. But won't it take more than legislation to correct how we currently look at women's bodies?
Because although extensive Photoshop is detrimental — magazine editors and advertisers are, essentially, lying to us, the public — the real problem is that what we consider "attractive" has also become, for the most part, unattainable.
Consider the old infographic Wired did, comparing Playboy Playmates then and now. In 1956, Miss November was 5'3" and 128 lbs.* Svelte, yes, but not a stick figure. Over the years, the BMI (yes, a questionable way to measure) has dropped for the Playmates. The women have gotten thinner and thinner. (Miss March 2008 was 5'4" and 108 lbs; Miss February 2010 was 5' 7" 102 lbs.)

Or consider female beauty icons — often the standard for a culture. Betty Grable was considered a sexy pin-up in 1943, but compare her shape to Twiggy in the '60s. Or Kate Moss in the '90s. Cindy Crawford's physique in the '80s was slender but strong — yet she is almost meaty compared to the Victoria's Secret models now. (Chanel Iman, below, who walked in quite a few shows during fashion week in New York, is markedly slight in the new Victoria's Secret commercials.) Even male mannequins are getting thinner.