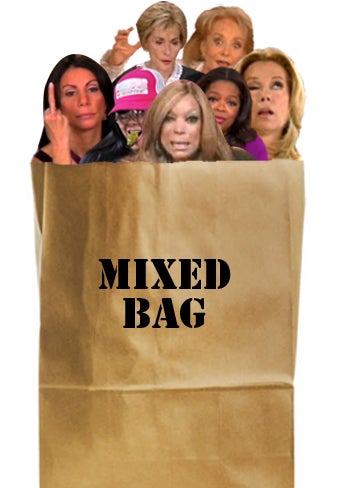 In this week's compilation of pop culture crap, Dolly Parton makes Nate Berkus cry, Teresa Giudice goes on Dr. Phil to talk about racial stereotyping, Barbara Walters is at her best when she's around children.
1.) Barbara Walters interacts with children.
A Barbara Walters special—the likes of which are unfortunately few and far between, these days—aired on 20/20, investigating Progeria, a rare genetic condition that rapidly ages the body. It's a sad disease and all, but watching Babs talking to kids will always turn a frown upside down.



2.) Dolly Parton made Nate Berkus cry.
This man's wife died in childbirth, while the twins she had been carrying survived. They all went on The Nate Berkus Show, where Dolly sang the widower's late wife's favorite song, "I Will Always Love You," and everyone got very emotional. It's amazing how much her voice has held up in comparison to Whitney Houston's. Actually, it's not amazing—it's crack.