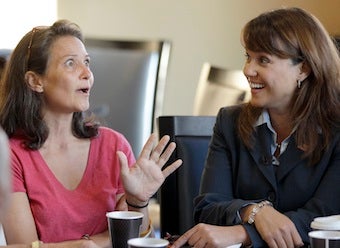 Republican Senate candidate Christine O'Donnell believes homosexuality can be "cured," claimed a gay ambassadorial appointee had "ties to the pedophile-rights movement," and thinks people with AIDS shouldn't be called victims. Also, her campaign's got the support of her lesbian sister.
That last comes courtesy of Mother Jones, which notes that O'Donnell's sister Jennie was on the campaign trail with her and appears to be openly gay. They were put on the scent by Michelle Goldberg, who interviewed a former associate of O'Donnell who worked with her on anti-gay outreach until he decided to embrace his homosexuality. (She cut him off). Per Mother Jones:
On her Facebook page, Jennie notes that she "live [sic] in west hollywood ca with my girlfriend and my dogs. just try to keep it simple and live!" She notes she is self-employed as a "spiritual psychologist, actor, meditation teacher." She describes her political stance as "conservative liberal." As for religious views, she says she is "into spirituality, not one religion, study all religions, take what i like, leave the rest." Her long list of Facebook "likes" include "The word 'Fuck,'" Christine O'Donnell for US Senate, the No H8 Campaign (which opposed a 2008 California ballot proposition to ban gay marriage), the Dalai Lama, and the National Center for Lesbian Rights.
She even directed a (gasp) feminist theater production.
Hey, we think families come in many forms. We just wish Christine O'Donnell's policies also reflected that.
A Tale Of Two Sisters [Mother Jones]
My Ex-Gay Life With The Tea Party Queen [The Daily Beast]