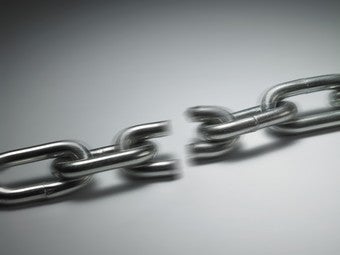 Breaking up is one of the most difficult social minefields of all — but today, we offer you tips on how to cut ties with everyone from a bad date to your therapist.
A lot of social life is about resolving disagreements and fixing problems. But sometimes the problems can't be fixed, and it's time for everyone to cut ties and move on. How to do that without being a dickwad or a doormat? We've broken it down by scenario.
A first date
Let's be honest: we've all been the asshole here. Show me the person who has never claimed to have a good time out of sheer politeness and then cravenly failed to pick up all subsequent phone calls, and I'll show you either a saint or someone who hasn't dated very much. That said, you can do the world a favor by not being that asshole anymore. Commenter audreyapple has a good approach:
I think a good line is "Thank you for the date. I had a lovely time, but I don't feel we have the necessary spark to really pursue this. I wish you all the best."
If you're online dating, this is absurdly easy to deliver in a post-date message. If you're not on a dating site, audreyapple points out that an email or text is totally fine for this kind of thing — you only went on one date, after all. And of course, there's no reason to deliver the message unless the person actually asks you on a second date. If he/she says something along the lines of "we should really do this again," though, and you don't want to, just say so. It's uncomfortable to reject people, and it can be especially hard for women, who are expected to be super-nice and flattered if a guy likes them. But rejection just gets harder the longer you drag it out, and you'll be surprised at the warm glow of self-respect you feel when you're direct and honest with someone. Often enough, they'll appreciate your directness too.
A casual dating partner
Say you've been on a few dates with someone, maybe hooked up, and you've decided you don't want to date/hook up anymore. I tend to think of two dates as the benchmark for when you owe someone a phone call to officially break things off, unless there's obviously no interest on both sides. Of course there's a lot of wiggle room here, but a good rule of thumb is that if the other party seems into you, it's nice to give them a little closure. You don't owe them an explanation, although a simple one, if you have it, may make the call a little easier. Good examples of simple: "I'm becoming exclusive with someone else," "I don't think we're a good fit." Bad example: anything that requires a psych degree, a dictionary, or several bong hits to understand.
Should you say, "let's be friends?" Opinions were divided when I suggested this approach in an earlier post. By way of clarification, I'll offer this simple test: do you actually want to be friends with the person? If so, go ahead and say it. If not, don't.