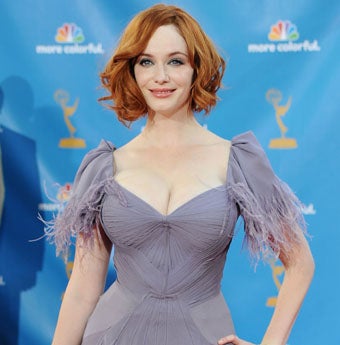 Christina Hendricks has gone from poster child for the supposed the comeback of curves to practically a stock photo for any story about bodies. Is it time to diversify?
As far back as 2008, Hendricks (often cited interchangeably with her Mad Men character Joan Holloway) got hailed as a harbinger of a new type of "it" bod — "curvy," which in Hollywood terms means big boobs, small waist, and big (but not too big) hips. That year, LA Times blogger Monica Corcoran took flak for comparing Hendrick's ass to "a holiday ham," but a trend was launched — pair an assertion like "curves are definitely making a comeback" with a gorgeous (and they're all gorgeous) photo of Hendricks, and you've got yourself a story. The Daily Mail did it, the Sydney Morning Herald did it, Refinery29 did it (albeit as part of a larger gallery that also included Crystal Renn).
Over time, Hendricks became sort of a metonymy for "curvy body." The British Equalities Minister said, "Christina Hendricks is absolutely fabulous. We need more of these role models. There is such a sensation when there is a curvy role model." The editor of British Cosmo said, "Joan has had a huge impact on fashion and on women having the confidence to flaunt their curves. This year loads of girls want to look like Christina Hendricks, not Kate Moss." And now the British press is even using Hendricks to illustrate scientific studies.