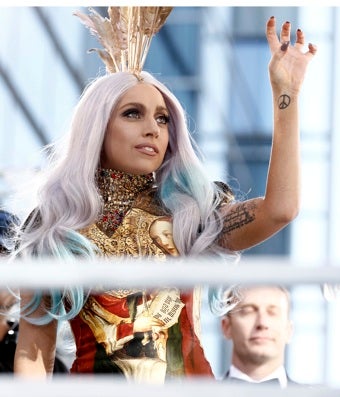 There are a ton of rumors swirling around tonight's VMAs: will Taylor sing a song about Kanye? Will Rihanna or Lindsay Lohan make a surprise appearance? Will we fall asleep halfway through the show? Let's all find out together.


11:15: Well, we made it, crew. Thanks for watching with me tonight. Hope you had fun!


11:14: "Let's have a toast for the douchebags" pretty much sums up everything about the evening, I guess.


11:09: And here comes Kanye's song of the night, after an introduction by Aziz Ansari.


11:08Gaga's new album is called "Born This Way," and she just gave us a preview, I think.


11:07: Gaga is wearing an outfit made entirely of meat. PETA powers, activate!


11:06:Holy shit, it's CHER! It makes me sad to think that half of the audience is probably like, "Cher?" And Video of the Year goes to: Lady Gaga, "Bad Romance."


11:00: You've made it through two hours, crew. Well done.


10:55: Emma Stone and Penn Badgley introduce Linkin Park, who apparently have a #1 single.


10:53: The winner of Best New Artist is: Justin Bieber, naturally.


10:50:Tracie just posted Taylor's sad Kanye song from earlier tonight, you can watch it here.


10:47: Robyn!!! And they're going to cut her off! Ugh.


10:44: Oh wait, here's Hayley Williams of Paramore to sing "Airplanes" with B.O.B, and she's actually singing, too (as is he).


10:42: And now B.O.B. and Bruno Mars are performing "Nothin On You." And I think Bruno Mars is the third person tonight who is actually singing.