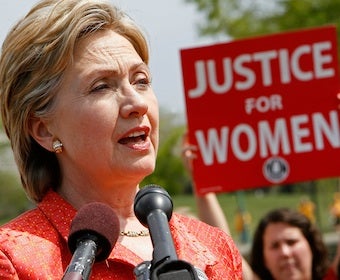 "It was narrated to us faster than we could absorb it," writes Rebecca Traister of the 2008 election. "In the ceaseless cycle of revelation and analysis we lost depth, clarity, and perspective." Not anymore, regarding what it meant for women.
This is where Traister comes in, and has come in for years, with incisive and elegant writing in Salon and elsewhere on the subject of women in politics. Traister's new book, Big Girls Don't Cry: The Election that Changed Everything for American Women does this on the broadest scale yet, taking on the experiences and representation of women in that pathbreaking election. Remember that? It's all here, from Hillary's tears to Palin's antics to generational tensions. We sat down with Traister to discuss the election's impact and aftermath, and how women might regain some of their political momentum.
Jezebel: You write about how the election exposed generational fault lines. We actually met at a lunch for a book about Hillary, where certain prominent older feminists stood up and said that young women were voting for Obama to get back at their mothers.
Rebecca Traister: As often happened at lunches about Hillary, within moments there was a furious conflagration about how young women didn't know anything about feminism. I found that the election offered a sort of match that lit what was already pretty dry tinder. It wasn't so much that Hillary made different generations of women angry at each other. It's that Hillary gave them the excuse to have the fight they'd been spoiling to have for a very long time.
You could go back and hear the same conversations around the foundation of the feminist and lefty blogosphere and hear young women saying, 'Well, the women of the traditional feminist organizations aren't listening to us, so we're moving into our own realms." Some of the older women — I'm using older women and young women very broadly, I don't meant to be talking in derisive generalizations — you could hear them say, "These young women don't take their rights seriously, they blog all day, they're not activists."
J: Did this mindset — that younger women just didn't understand — also strengthen older women's identification with Hillary?
RT: These were women who, many of whom, had already spent many years identifying with Hillary Clinton. Hillary had been an explosive figure in American political culture to a generation that had been the first one to largely break into the work force, to have two-career marriages, to balance family and work. There had never been a First Lady like Hillary before. She inspired such passionate identification among these women who'd never seen themselves reflected in public life.
It wasn't just how the young women were treating Hillary, it was how the media was treating Hillary that forced a further identification, or a re-identification, with Hillary, and a sense also that her gender combined with her age — as we know there's an ever-decreasing value on women as they age. A lot of women roughly Hillary's age who saw the push to get her off the stage, to make her quit, to make her disappear, to make her stop, as very much in line with their experiences of feeling pushed off the stage, you know, 'Nobody cares about you anymore.'
J: You write that the Hillary Clinton campaign had had a chance at some of the inspiration that the Obama campaign offered, but that it missed that opportunity.
RT: I'm not so naïve to say that if Hillary had presented herself as a feminist candidate, she wouldn't have scared everyone off. And I don't mean to say she should have done it some other super-feminist way. These were the circumstances that female candidates have faced for some time — the ambivalence with which feminism has been held not only by the right, but within her own party, for decades. I don't mean to blame her for that. What I do think was a real error was not reaching out to young women earlier. I think there were a lot of young women out there who would have been thrilled, even without her representing herself as busting through a glass ceiling and 'you go girl,"…who would have loved to have been directly addressed, taken seriously, brought in the campaign earlier. It was a terrible error on the part of Mark Penn and it could have been game changing, I think.
J: Instead, you write, what ended up galvanizing young women and others around Hillary was seeing how she was treated in the media… It's still amazing to go back and watch that footage. It's interesting that these were mostly older guys on MSNBC and Fox, and yet you also argue that there was also sexism among younger male Obama supporters when it came to Hillary.