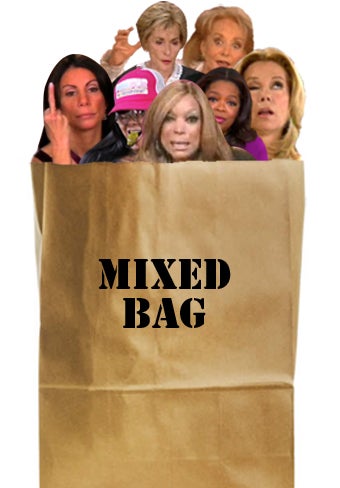 In this week's compilation of pop culture crap, Naomi Campbell is a huge Real Housewives fan, Fantasia gets real with Wendy Williams about her suicide attempt, and Jerry Lewis is a grumpy old man.
1.) Naomi Campbell loves The Real Housewives.
And she thinks that Teresa Giudice is a good role model! We learned this when she called in to the season premiere of Watch What Happens. Also, she said she totally gets why Teresa pushed Andy off of her at the reunion.



2.) Ben Weiner!
We had to wait all summer for him to get back from camp, but preteen Real Housewives superfan Ben Weiner finally appeared live on Watch What Happens.



3.) Babs returns
Barbara Walters returned full-time to The View this week, bursting with energy from her new cow heart.