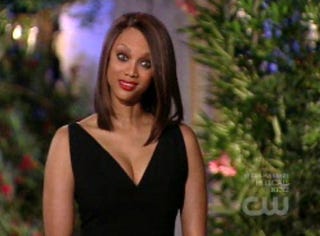 On last night's premiere, we learned that the theme of Cycle 15 is "high fashion," meaning that the contestants—needing to be suitable enough for the pages of Vogue Italia—might not end up with a career in wig modeling.
So what's "high fashion"? According to Tyra, it's somewhere along the lines of this:




The stakes are raised this cycle, as Tyra pointed out in her voice overs, with photographers that people have heard of (Patrick Demarchelier, Matthew Rolston) shooting the girls, and a grand prize in the form of an IMG contract, a spread in Vogue Italia, and the cover of something called Beauty in Vogue.




It makes sense that this girl was already eliminated do to her all too literal (or perhaps dated?) interpretation of "vogue":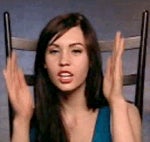 The semi-finals episode is always kind of anticlimactic, since we always know already which girls have made the cut. Still, it's fun getting to meet a new batch of rejects, so we can watch their demise unfold before our very smize. Like this girl.