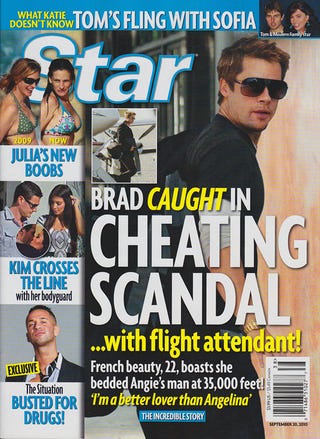 Welcome back to Midweek Madness, our weekly collection of tabloid trash. Today we learn Brad joined the Mile High Club with a French model, Snooki is having a lesbian fling, and The Situation is gunning to be Sarah Palin's son-in-law.
OK!
I'LL FIGHT FOR MY BABY
OK!, your go-to source for stuff that happened on reality shows earlier this week, reports that Teen Mom star Maci Bookout plans to fight ex Ryan Edwards' efforts to get more visitation with their son Bentley. "Ryan's threatening Maci with court to prove a point," says a source. "Not because he's desperate to have Bentley full time. He's doing it to hurt her." As for Farrah Abraham, who recently declared she only had $100 to her name (though the mag presumably paid for the interview), she's mooching off her parents again. They've reportedly paid her rent for the next seven months and are paying her tuition at culinary school. Next: Emily Blunt and John Krasinski have been married for two months, so clearly they have babies on the brain. "They know they'll make great parents, and can't think of a better way to show their love to each other than to start a family," says a source. Lady Gaga is taking an online course to become an ordained minister so she can marry fans when gay marriage is legalized. Next: In one of several "exclusive" interviews with the tabloids this week, Danielle Staub declares, "I can speak loudly about the gay community — from within." Though she refuses to confirm that she's dating Lori Michaels, she says, "If I'm dating [Lori], this would be the sixth [girlfriend.]" Some other choice quotes: "[In five years] I'll still be the biggest reality star on television!" "I am a villain; I'm the Susan Lucci of reality," and on her plans for a new reality show, "I'd call it The Real Danielle Staub, or Danielle Staub and the Real Jersey Girls, or Danielle and Her Real Mafia."
Grade: F (Seated next to a screaming baby on a 14-hour flight.)
Us
Lauren's Revenge
The folks at Us seem to think Lauren Conrad's only motive for being in a stable relationship and enjoying a moderately successful career to get "revenge" on her former Hills costars. As Lauren puts it, "It'a a little bizarre that I'm constantly being applauded for not going crazy." Next: Glee Matthew Morrison was spotted kissing his former fiance, All My Children's Chrishell Stause, at a Hawaii resort. Jennifer Aniston went on "two dates in one week," one with Cougar Town star Josh Hopkins, and another with Lindsay Lohan's ex, Harry Morton. However, insiders say both dudes are just friends and, "She isn't dating anyone seriously." Probably so she can devote more time to texting Brad Pitt and picking out jewelry that sends secret signals to John Mayer. Moving on: In yet another interview, Danielle Staub tells Us that when she questioned Teresa Giudice about never acknowledging her nephew during the RHONJ reunion she was referring to the child of Teresa's brother Joe and his wife Melissa Gorga (who may join the cast next season). "Teresa's sister-in-law has a major beef with Teresa and Joe. Melissa was made to feel like an outsider. Teresa treats them like they're no good." By the way, this issue contains 57 pages of fall fashion coverage, so if you love Elle but wish it focused more on what the stars of The Bachelorette and Pretty Little Liars are wearing, this is the mag for you.
Grade: F (Seated next to delusional reality star on 14-hour flight.)
Life & Style
WHAT ELIN REALLY KNOWS
While the cover implies that the we'll learn some new dirt about Tiger Woods, the article actually consists of vague statements from Tiger's former mistresses. For example, Jamie Jungers says, "I'm sure Elin is hiding millions of secrets." As Cher Horowitz would say, "whatever." Were you aware that Jersey Shore's Sammi Giancola is "TRAPPED BY A MONSTER"? The mag says Ronnie Ortiz-Magro is emotionally abusive, but she isn't close with anyone else in the house, so "she turns to Ronnie, the man she fell in love with during season one and who becomes both her savior and her captor in seasons two and three." But there's hope — the mag asks, "CAN THE SITUATION SAVE SAMMI?" Elsewhere in Jersey, Caroline Manzo talks to the mag in yet another exclusive interview with a Real Houswife. She says she'll never forgive Danielle Staub, adding, "My daughter, Lauren, was very upset by what Jacqueline and Teresa did... She said, 'Mom, they didn't stand by you." But I'm okay. I don't need that." Then Jacqueline sort-of retracts her apology to Danielle during the reunion saying, "It's different to forgive than to give up. I just gave up. We had been taping for 12 hours, and I was exhausted. I just wanted everything to go away. That's why I did it. I just couldn't deal with it anymore." Lastly, check out this Matthew McConaughey Photoshop disaster (image 7).