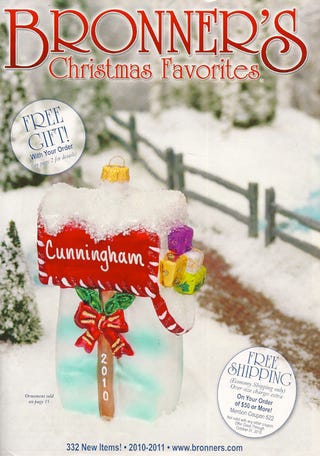 Summer's basically over, which means Christmas is right around the corner. That is, according to the folks at Bronner's: This catalog arrived in the mail right before the Labor Day weekend.
Inside, you'll find extraordinary ornaments to hang on your tree for a couple of weeks, and forget about while they stay boxed in a closet for 11 months of the year!
Bronner's is pretty famous, and we've covered it once or twice before. To me, it is just a catalog. But if you're lucky, you've visited the headquarters in Frankenmuth, Michigan, like our own Jessica Coen. "It's huge," she reports. "And located at 25 Christmas Lane." That's CHRISTmas lane, actually. Bronner's likes to make sure you know you can't have Christmas without Christ.