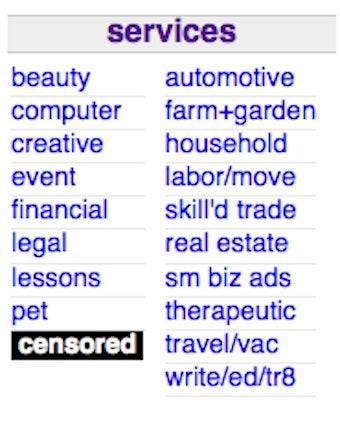 Over the weekend, a black bar labeled "censored" appeared where the link to Craigslist's adult services used to be. So far, the company isn't talking, but the move has reignited the debate over censorship, anti-trafficking strategies, and sex workers rights.
Craigslist's previous concession to critics of its erotic services section was to rebrand it as "adult services" and promise that each ad would be vetted for illegal content. Last month, 17 attorneys general, led by Connecticut's Richard Blumenthal (currently running for Senate), sent Craigslist a letter saying it wasn't good enough. It's not clear whether this move is even permanent, and some have speculated the "censored" bar is a political statement to Craigslist's critics.
Despite the fact that prostitution is illegal, Craiglist has the legal edge on this issue, citing the Communications Decency Act. As one legal expert told The New York Times, "They can absolutely keep it up. The law is pretty crystal clear on this. What's happened here is the states' attorneys general, having failed to win in court and in litigation, have decided to revisit this in the court of public opinion, and in the court of public opinion, they have been much more successful."
That success has been contingent, in part, on blurring the terms of the debate over an industry that is diverse and decentralized. Everyone is against coercion and child trafficking, at least on paper. But as demonstrated by this CNN report from last month, which included a correspondent posting an ad heavily hinting at youth and ambushing Craig Newmark on the street, the moral outrage extends far beyond the exploitation of children and trafficked women, to encompass all women selling sex, including consenting adults. "What do you think she's selling in her bra and underwear? A dinner date?" she says to Newmark (who no longer actually runs the site).
No one believes the blocking of this part of Craigslist will end the sale of sex on the Internet. (In fact, our brother site Gawker has already helpfully listed alternatives). It won't even end the sale of sex on Craigslist, since plenty of the ads have since moved to the personals section, making them even harder to regulate.