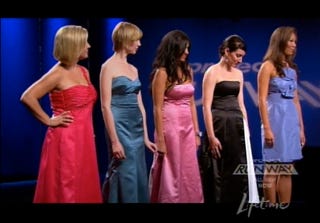 Last night's episode involved taking hideous polyester bridesmaid dresses and turning them into something wearable. Results were mixed between "Snooki & The Flintstones" and "secretary from 1987."
Mondo picked a dress because it was pink, but when his model turned around, she had a weird white stripe highlighting her ass. Mondo was adorably horrified.
During the challenge, which also involved allowing the public at some random designer showcase to vote on which dress they liked the best, Michael C was doing pretty well. So Ivy started some kind of rumor that he was spreading a rumor about her. Or something. On to the runway…
Gretchen's outfit looked, in the words of my friend who was watching with me, "like fucking garbage." And: "like the woman shat herself."
Ivy turned her cream dress into tight-ass tuxedo pants.
Andy had the J. Crew dress with the fugly vertical bow on it. I have hated this dress for a while now! He dyed his fabric and churned out hot little shorts. One of the other designers called this a "take your husband" outfit.