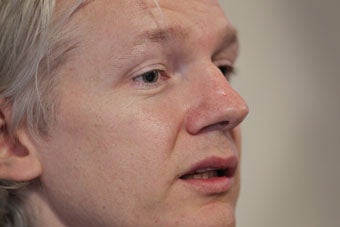 So Julian Assange, founder of Wikileaks, has been accused of rape, then un-accused, and now re-accused. Also potentially involved: Swedish pirates, and the Pentagon. A little confused about what's going on here? Don't worry, we're here to help.
First things first:
Who is this guy?
Julian Assange is an enigmatic Australian "internet activist" and the public face of Wikileaks, the site famous for leaking the Afghan "War Logs," which showed the war in Afghanistan going worse than the US government officially admitted. Ways Assange is enigmatic include not calling himself the "founder" of Wikileaks (he says "some of the people in the initial founding group are refugees, refugees from China and other places"), refusing to confirm his age, and having a Wikipedia photo dated "in or before 2006" (so maybe he's looked this way since birth?).
What did he do?
In August, Assange was accused of rape and sexual molestation (which according to one translator could be "groping, shouting lewd things, [or] basically being a creep") for his actions with two women he met in Sweden. The women say they had consensual sex with Assange that "turned non-consensual" — the Swedish police haven't released all the details, but the charges may have to do with Assange agreeing to use a condom, and then reneging.